The Duke of Edinburgh, KG, KT, OM, GBE, AC, QSO, PC

The Canada Club and its members are deeply saddened by the passing of His Royal Highness The Duke of Edinburgh. His Royal Highness was the royal patron of The Canada Club since 1954, having attended his first event in 1947.  The members of the Canada Club are profoundly grateful for his steadfast dedication to duty and commitment to building relationships with all Canadians and extend our deepest sympathies to Her Majesty The Queen.  
Few clubs can claim, as the Canada Club can, to have existed for over 200 years as a purely social club bringing people together for wonderful dinners and to hear notable speakers.
Founded in 1810 by fur traders who wintered in London to sell the furs trapped in the Canadian territories, the Canada Club is older than Canada itself and is the oldest Canadian institution outside of Canada. Since its early beginnings, the Canada Club has hosted a combination of Great Dinners and Great Speeches, and through the years has been a London tradition for Canadians as well as their British and International friends.
Dinner with Dr. Jenni Siddy-Gibbons, Canadian Astronaut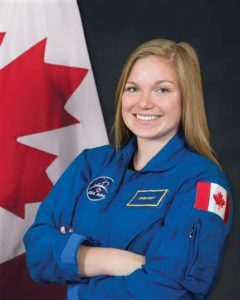 28 Jan 2020
7:00 PM (UTC-00:00)
Location
Royal Institution, 21 Albemarle Street, Mayfair, London, W1S 4BS
Please join the Canada Club to welcome one of Canada's newest astronauts, Dr. Jenni Siddey-Gibbons, to dinner at the Royal Institution, London's home of science.
Jenni plans to speak about her experiences at the Canadian Space Agency, NASA, and the University of Cambridge.  More details below.
Tickets are £95 and can be purchased by Canada Club members. (Please note: the Canada Club has recently upgraded its membership database so if you do not have a password, please use the lost password link to receive one.)
We look forward to seeing you all there.
We would like to retain the information gathered here (it will be stored on a password protected hard drive), for the purposes of keeping in touch and updating you with relevant information. This information will never be shared with a 3rd party without your direct consent. By clicking 'Sign Up' you understand and agree with The Canada Club retaining this information to contact you.